Bringing English Country Dancing to the community for over 20 years! Who are we? We are a volunteer-run, not-for-profit social dance group welcoming the community to share the joy of traditional live music and dancing. Dedicated to nurturing new talent, we hold traditional music sessions and musicians' workshops, callers' workshops, dance classes and special events as well as regular local dances. All welcome! No partner or dance experience is required. What do we do? English Country Dancing is the dance form of Shakespeare, Jane Austen and Napoleon, but new tunes and dances are being written all the time. It is done in groups, with dancers weaving intricate patterns around each other to music ranging from lively jigs and reels to dreamy and hypnotic melodies. Today there are ECD communities around the world, including Australia, Europe, Canada, and the US. When do we do it? Social dances with live music — all welcome — and family dances in the Annex, plus workshops for every level from beginner to advanced, and special events at various locations. Check this page, sign up for the mailing list or join us on Facebook and Twitter to get the latest news!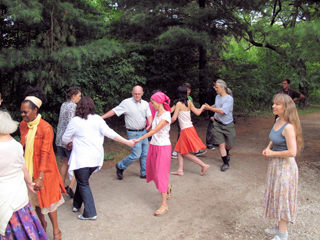 Image©Ruth Lor Malloy 2011, Blog.TorontoMulticulturalCalendar.com


Next dance Sunday, August 19!
Live music, all dances taught, walked through and cued during the music by professional callers. We're a friendly and welcoming group, and we all invite newcomers to dance with us, so no partner is needed.
During the colder months we dance weekly at Trinity St Paul's, 427 Bloor St West.
For all our events:
No partner or experience needed, no lead or follow! Bring low-heeled shoes with some grip (old, well-worn running shoes work well) and your own reusable water bottle, wear comfortable, layered clothes, and please refrain from wearing scented body- and hair-care products.
---
Watch this space, join our mailing list and check us out on facebook and twitter for updates.
Please note that all TECD events are completely fragrance-free. For bulletins on our current and upcoming events (social dances, workshops and special events) please join us on Facebook, Twitter, and/or the
mailing list
.