English Country Dancing is the dance form of Shakespeare, Jane Austen and Napoleon. It is done in groups, with dancers weaving intricate patterns around each other to music ranging from lively jigs and reels to dreamy and hypnotic melodies. Today there are ECD communities around the world, including Australia, Europe, Canada, and the US.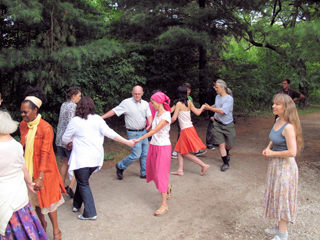 Image©Ruth Lor Malloy 2011, Blog.TorontoMulticulturalCalendar.com
Next event:
A Weekend with Brad Foster and Foxfire
(Karen Axelrod and Daron Douglas)
Victoria Day weekend - May 17-19
An English Country Dance weekend packed with workshops, live music, silent auction, community potluck, and more.

St. Barnabas, 361 Danforth Ave

We encourage you to bring your own cups to help protect the environment.

Dancing in High Park coming soon!